Editing text
For editing content, there is powerful editor available which will enable you to use rich mark-up like images, tables and colors.
Hovering over the toolbar buttons will show a tool-tip to explain what a certain button does.
Please note that it is a bad idea to paste text straight from a word processor into the text area. Your site will become unnecessary heavy, and it might even break your site. Paste it as plain text and do the mark-up using the editor tools.
Show animation
---
Adding images
Add an image to your text by clicking on 'Add a single image'.
Select an image and drop it into your text. When you drop it in the left part of your content, the image will float left; with other words, the text will flow around it. Similar if you drop it in the right part, the image will float right.
Drop it somewhere in the middle for a non-floating image.
Show animation
More precise positioning and changing the size can be done using the text editor, by double-clicking on the content.
You can change the image alignment with the styles option in the editor toolbar.
Another way to insert images, is to position your cursor in the text and clicking on the image tool in the editor toolbar
An image dialog appears, from which you can browse/upload images:
This will open the image manager and by ctrl-click (clicking on an image with the control key down) the image will be inserted into your document.
---
Galleries
Add an image gallery to your text. Click on 'Add a gallery' from the site manager toolbox, and drag the gallery into your text.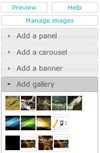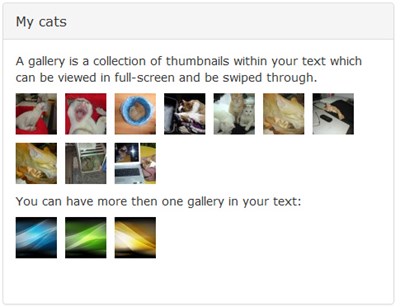 Show animation