Before you can use images in your website, they need to be uploaded to the web first. The image manager lets you do that.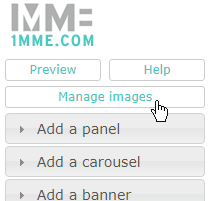 Note that, unlike any other changes to your site, where nothing is permanent until you save your changes, adding and deleting images are done instantaneous.

Images are organized in records.
Records can contain a single image, or multiple images. Records with multiple images (collections) can be used as a carousel or as a gallery, and if they are all of the same size, as a rotating image.
Uploading images
You can upload images from your device to the web by either editing an existing collection (record) or by creating a new one. You will be able to select multiple images on your device.
Add record
You can add a record simply by clicking on the 'new' button.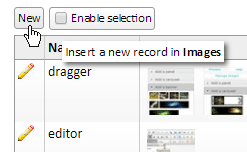 In the following dialog, give a name to this record and choose 'upload images' and choose images from your device.
Delete record
To delete a record, first you have to enable the delete option.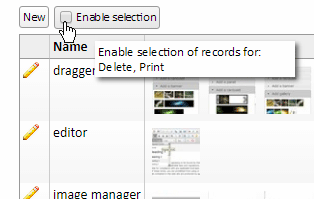 After doing this, a new column appears with a checkbox or each record. Clicking subsequently on the garbage bin will delete this record, and any other record you might have chosen (after a confirmation prompt).
Editing a record
You can add or delete individual images in a collection and drag them around to change the order. Click on the pencil icon to enter the edit mode.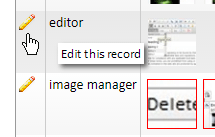 You can now add images to this record, or remove them all, delete individual images, or drag them to change the order.