Before you can use images or videos in your website, they need to be uploaded to the web first. The Media Manager lets you do that.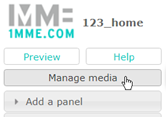 Note that, unlike any other changes to your site, where nothing is permanent until you save your changes, adding and deleting images is done instantaneously.
So it is a good habit to organize your pictures locally, so that in case of a mishap, you know were to find a deleted one.
Media are organized in records. Records can contain a single image or video, or multiple images or videos. Records with multiple images (collections) can be used as a carousel or as a gallery, and if they are all of the same size, as a rotating image.
Uploading images and videos
You can upload images and videos from your device to the web by either editing an existing collection (record) or by creating a new one. You will be able to select multiple images or videos on your device.
Because videos tend to be large, and the maximum upload size of media is 10Mb, there is another way to include videos / YouTube videos in your site. See 'Note on videos' below.
Add record
You can add a record simply by clicking on the 'new' button.
In the following dialog, give a name to this record and choose 'upload media' and choose images or videos from your device.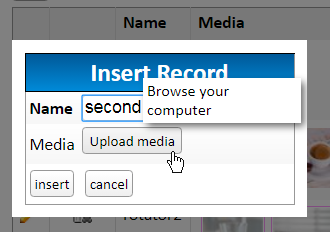 Delete record
You can only delete a whole record if none of the media in that record is used on your website. You can do so by clicking on the garbage bin. Unused media have a red outline. You can see where an image is used by hovering your cursor over an image. It is still possible to delete an individual unused media by entering edit-mode (see below).
Editing a record
You can edit a record by clicking on the pencil icon.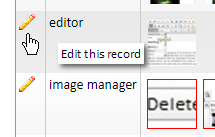 You can add or delete individual media in a collection and drag them around to change the order. Click on the pencil icon to enter the edit mode.
You can now upload (multiple) images or videos to this record, or remove them if they are not used, or drag them to change the order. To delete an unused media, shift-click on the image.
Note on videos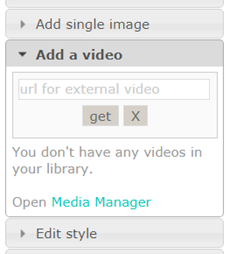 You can ad external videos to your site without uploading them to the media manager. This will circumvent the upload maximum size, but it means that those videos must exist somewhere on the web.
Youtube / Vimeo videos can be included as well. Just copy and paste the embed the complete code in the input field.
<iframe width='560' height='315' src='https://www.youtube.com/embed/XqICpV_NHio' frameborder='0' allow='accelerometer; autoplay; encrypted-media; gyroscope; picture-in-picture' allowfullscreen></iframe>
Below are some links to public test videos, to get a feel for it.
https://commondatastorage.googleapis.com/gtv-videos-bucket/sample/BigBuckBunny.mp4

https://commondatastorage.googleapis.com/gtv-videos-bucket/sample/ElephantsDream.mp4

https://commondatastorage.googleapis.com/gtv-videos-bucket/sample/ForBiggerBlazes.mp4

https://commondatastorage.googleapis.com/gtv-videos-bucket/sample/ForBiggerEscapes.mp4

https://commondatastorage.googleapis.com/gtv-videos-bucket/sample/ForBiggerFun.mp4

https://commondatastorage.googleapis.com/gtv-videos-bucket/sample/ForBiggerJoyrides.mp4

https://commondatastorage.googleapis.com/gtv-videos-bucket/sample/ForBiggerMeltdowns.mp4

https://commondatastorage.googleapis.com/gtv-videos-bucket/sample/Sintel.mp4

https://commondatastorage.googleapis.com/gtv-videos-bucket/sample/SubaruOutbackOnStreetAndDirt.mp4

https://commondatastorage.googleapis.com/gtv-videos-bucket/sample/TearsOfSteel.mp4

https://commondatastorage.googleapis.com/gtv-videos-bucket/sample/VolkswagenGTIReview.mp4

https://commondatastorage.googleapis.com/gtv-videos-bucket/sample/WeAreGoingOnBullrun.mp4

https://commondatastorage.googleapis.com/gtv-videos-bucket/sample/WhatCarCanYouGetForAGrand.mp4
Big Buck Bunny